Another Man's "Trash", Treasured
Another Man's "Trash", Treasured is a 13 page cover editorial story on recycled fashion where we partnered with reuse clothing store, ModTex, to produce a Fall editorial spread for a different kind of fashion story. With the emergence of the hit song "Thrift Shop" by Macklemore, thrifting is definitely trending right now. So we thought, "why not show people that you don't have to wear something brand new to look great?!"
Models: Joshua Smith & Zachary Smith @ IMD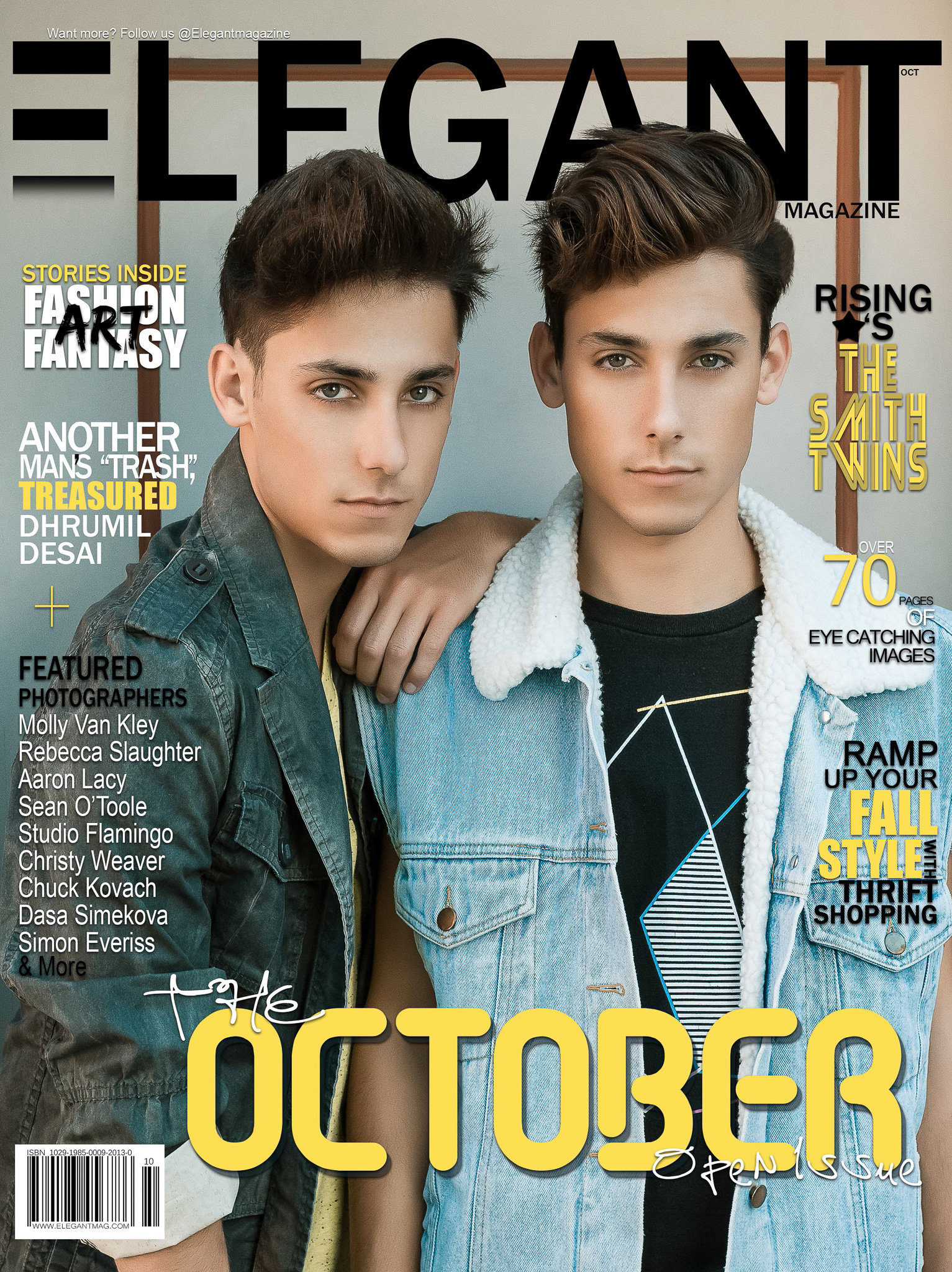 Dynamite Editorials partnered with reuse clothing store, ModTex, to produce a Fall editorial spread for a different kind of fashion story. With the emergence of the hit song "Thrift Shop" by Macklemore, thrifting is definitely trending right now. So we thought, "why not show people that you don't have to wear something brand new to look great?!" 
Eco-friendly fashion and sustainability is currently a hot topic of debate in the fashion industry and ModTex has been in the recycle textile, eco-friendly business for 20 years. ModTex (short for Modern Textiles) gives customers the opportunity to recycle their used clothing by trading for other items in the store through store credit or by being monetarily compensated. Modtex prides itself in re-purposing used clothing for retail consumption in an effort to curtail excessive waste and strive towards a more environmentally oriented business model reflected in large industry companies like H&M's garment collection initiative. At ModTex, they take the guesswork of rifling through mountains of rags to find great pieces by picking the highest quality and most fashionable garments, ensuring every piece is a treasure. Go to
www.shopmodtex.com
to learn more.
Dynamite Editorials is an educational production company specializing in editorial photography founded by Fashion Stylist, Blogger, and Production Director, TNT Tauna. Tauna began her career in the fashion industry as a model finding her niche in the Rockabilly/Pinup scene. She eventually expanded her portfolio to cover many genres and while doing so discovered her natural talent for styling when she was asked to style her own photo shoots. Tauna decided to switch her focus from modeling to styling and began attending Orange Coast College for their Fashion Merchandising program. Then she founded Dynamite Editorials to help give other artists a chance to create cohesively styled editorials for portfolio use, promotion, and publication. Tauna works diligently behind the scenes to organize content creating events, invite influential fashion bloggers to join the fun, and find magazines interested in publishing the content. Artists have a chance to win her Photo of the Day Contest held after each photo shoot and featured on her blog. Tauna is also working with emerging designers and select boutiques to get them the publicity they need to take their businesses to the next level. To learn more about TNT Tauna and Dynamite Editorials please visit her website at
www.tnt-tauna.com
and follow her on Twitter/Instagram
@tnt_tauna
.
Dhrumil Desai is a fashion and beauty photographer in the Los Angeles/Orange County area who focuses on creating sophisticated, stylish, and elegant photos. He creates images with a character to his editorial, fashion, and advertising clients that help sell the products. The images highlight the fashion but also develop a relationship between the viewer and the photo by having a strong character presence in the photographs. The goal is for people to fall in love with the characters being portrayed by sharing Dhrumil's vision and passion through his photography. Recent personal projects include photographing Characters of Renaissance Faire; and creating a series of photographs taken from the window seat of an airplane, which has won him an award in the Fine Arts category in the 2nd National Photo Awards held by the Government of India's Ministry of Information and Broadcasting. Currently, he regularly shoots print editorials for Locale Magazine based in Orange County. You can see his latest work at
www.dhrumildesai.me
 and follow his creative journey on his Instagram at
@desaidhrumil
. 

The style for this editorial was inspired by both the inspiration board created on Pinterest and the available wardrobe provided by ModTex. Stylist, TNT Tauna, and her assistant, Amanda Nguyen, searched the boutique for items that represented the Fall season while paring outfits that complemented each other for the Twins. Luckily, ModTex is located in downtown Fullerton which is surrounded by the local college community of Cal State Fullerton & Fullerton College. The clothing they receive are relevant high quality items from the college age community making it easy to find multiple outfits that compliment each other. The stylists were able to give the Twins character with their looks representing aspects of the college lifestyle such as family time, pop culture, Back to School, and working a job. Take a look at the Stylist's inspiration for each look in this editorial.
Models, Joshua and Zachary Smith, are not your ordinary models. At an early age, these twins were scouted for their chiseled european features and natural knack for modeling. They were recently voted Upcoming Young Male Talent in Hollywood. They are also actors who are currently on set for a few hush hush movies they weren't allowed to talk about. The Twins have worked with big name brands in the past such as Nike, Disney, and MTV. They have been featured in Spook Magazine, Transmission Magazine, and the Stylist Handbook Magazine to name a few. Joshua and Zachary both have a large fan following and it's easy to see why from their photos. They are such a pleasure to work with and more importantly they are on the cusp of a long affluent career.